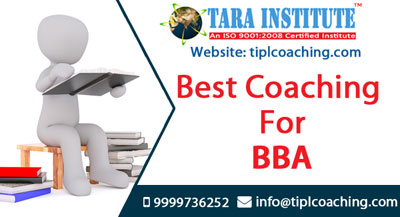 The percentage of the students interested in the BBA Entrance Exams is continuously increasing because of the growing scope of employment opportunities in the business management profile.
If you are looking for the top BBA Coaching in Delhi, you can enroll with TIPL Coaching without any doubt in your mind. TIPL is known institute of BBA Entrance Exams.
There is no need for students to waste money and time in shortlisting Institute for BBA Entrance Exams in India.
Avail the classes of BBA Entrance Exams at TIPL Coaching popular as the topmost coaching centre for BBA Entrance exam.
BBA-Bechelor of Business Administration
Welcome to TIPL, the premier institute of learning that delivers quality oriented learning accolades for the students looking forward to become a successful entrepreneur of the country. We offer BBA coaching in Delhi and guide the students all throughout the entrance exam preparations for the most acknowledged course of the commerce and Business Administration field, i.e. Bachelor of Business Administration (BBA).
BBA program is the basic yet most important phase of the business administration field that guide the students to go through a deep intervention of the business functionalities and its interconnection with other specialized field of operations. After completing the three year program of BBA, students can enter into the specialized cum post-graduate program countering Business Administration specialization.
At TIPL, students can find the right and precise preparation module to prepare at the best for the entrance exam of BBA. Our coaching program is modeled with unique coaching methodology that guides the students with complete insight over the important topics covered in the entrance exam. Our experienced faculty and intensive classroom training help the students in attaining success in their career endeavors.