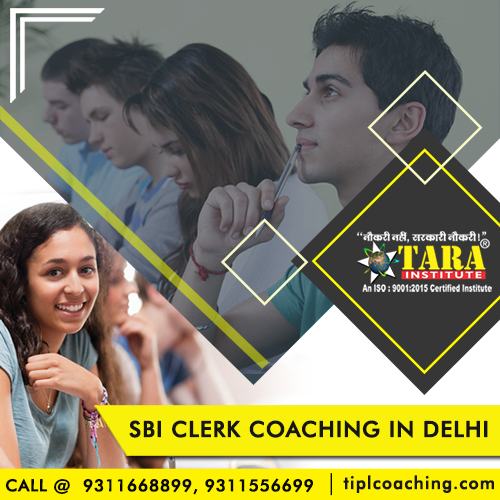 Now achieve success in your SBI Clerk Exam with the best from the rest SBI Clerk Coaching in Delhi imparted by TIPL Coaching.
TIPL Coaching has a cluster of highly expert faculties who love teaching students determined to succeed in life. Now no more travelling for classes of SBI Clerk exam because the prestigious institute for SBI Clerk exam in India TIPL has opened its study centres in the different corner for the convenience of young aspirants.
TIPL Coaching in Delhi ? the Institute of SBI Clerk entrance exam coaching can certainly support you to easily crack the top SBI Clerk entrance exams in the nation.
The SBI Clerk notifications are released ever year for the posts of Junior Associates. Students are now rushing to get admission in top 5 coaching classes for SBI Clerk exam. With over 10000 branches and 5000 associate branches, the SBI happens to be one of the largest and oldest banks in the Indian subcontinent. Being a preferred public sector bank, it has registered its presence in over 30 nations with more than 80 offices. SBI clerk recruitment happens to be a jackpot for the students who were waiting for the opportunity to get into a government job. With the bugle already sounded, it is the perfect time for students to brush up their concepts. TIPL is offering best SBI Clerk exam coaching in Delhi and Mumbai for the students to get the necessary assistance in cracking the exam.
The news about SBI Clerk Recruitment 2018 was being expected for long & the announcement has come at a time when candidates were down after IBPS results & LIC AAO results.
And now it is the turn of SBI to pep up things with recruitment of 17000 clerical cadre jobs. It is sure a jackpot for aspirants looking to enter government banks.
| | |
| --- | --- |
| Events | Tentative Dates |
| Start of SBI Clerk 2018 Online Application | 20th January 2018 |
| SBI Clerk 2018 Application Form Closes | 10th February 2018 |
| SBI Clerk 2018 Preliminary Exam | March-April 2018 |
| SBI Clerk 2018 Mains Exam | 12 May 2018 |
Eligibility for Recruitment
(A) Essential Academic Qualifications: (AS ON 01.01.2018)
Graduation in any discipline from a recognized University or any equivalent Qualification recognized as such by the Central Government. Candidates having integrated dual degree (IDD) certificate should ensure that the date of passing the IDD is on or before advertisement the vacancy news. Note (a) The date of passing eligibility examination will be the date appearing on the mark sheet/certificate or provisional certificate issued by the University/Institute. In case the result of a particular examination is posted on the website of the University/ Institute, a certificate issued by the appropriate authority of the University/Institute indicating the date on which the result was posted on the website will be taken as the date of passing. (b) Matriculate Ex-servicemen, who have obtained the Indian Army Special Certificate of Education or corresponding certificate in the Navy or Air Force, after having completed not less than 15 years of service in Armed Forces of the Union are also eligible for the post. Such certificates should be dated on or before advertisement the vacancy news.
(B) Age Limit:-
Not below 20 years and not above 28
SELECTION PROCEDURE
: The selection process will consist of on-line test (preliminary & main examination) and test of specified opted local language. Phase-I : Preliminary Examination: Preliminary Examination (online) consisting of Objective Tests for 100 marks will be conducted online. This test would be of 1 hour duration consisting of 3 Sections as follows:
Relaxation of Upper age limit:
| | | |
| --- | --- | --- |
| Sr. No | Category | Age of Relaxation |
| 1 | Scheduled Caste/Scheduled Tribe | 5 years |
| 2 | Other Backward Classes (Non-Creamy Layer) | 3 years |
| 3 | Persons with Disabilities | 10 years |
| 4 | Ex-Servicemen | 5 years |
| 5 | Persons affected by 1984 riots | 5 years |
Educational Qualification for SBI Bank Clerk (AS ON 30.06.2018)
Junior Associate: Pass in any degree, as on June 30, 2018
Junior Agricultural Associate: Degree in Agriculture or Agriculture allied activities as on 30.06.2018
Final year students are also eligible to apply for this SBI clerk (junior associates) 2018 recruitment but should be able to produce proof of passing the degree exam on or before June 30, 2018 if called for interview.
Local language test: Candidates who produce 10th standard mark sheet/certificate to show that they had studied the official language need not appear for language test.
For all others, language test will be conducted at the time of interview or before final selection (if interview is not held)
Phases of Examination
Phase 1 :Preliminary Examination for 100 marks shall be conducted in the month of May. It would contain 3 sections.
| | | | | |
| --- | --- | --- | --- | --- |
| Sr. NO. | Name of Test | No. of Questions | Marks | Duration |
| 1 | English Language | 30 | 30 | 20 minutes |
| 2 | Numerical Ability | 35 | 35 | 20 minutes |
| 3 | Reasoning Ability | 35 | 35 | 20 minutes |
| | Total | 100 | 100 | 1 Hour |
Candidates have to pass in each objective test that also carries 0.25 negative mark.
Phase 2: Main Examination: The structure of main examination (online objective type) would be as follows.
| | | | | |
| --- | --- | --- | --- | --- |
| Sr. NO. | Name of Test | No. of Questions | Marks | Duration |
| 1 | General/Financial Awareness | 50 | 50 | 35 minutes |
| 2 | General English | 40 | 40 | 35 minutes |
| 3 | Quantitative Aptitude | 50 | 50 | 45 minutes |
| | Total | 190 | 200 | 2 Hours 40 minutes |
The questions in objective tests, except for the test of General English, will be bilingual i.e., English & Hindi. There will be negative marks for wrong answers in the Objective tests. 1/4th of mark assigned for question will be deducted for each wrong answer.
Adequate number of candidates in each category as decided by the Bank (approximately 10 times the numbers of vacancies. subject to availability) will be short listed for the Main Examination from the list of all candidates arranged in descending order of aggregate marks scored. No minimum qualifying marks for individual subject as well as for aggregate (overall) are prescribed.
Phase III: Interview (subject to Govt of India approval) Those who get clear the main exams will be called for personal interview.Since govt of India had advised banks not to conduct interviews for clerical cadre jobs, it is not known whether SBI will continue with interview or not.
Syllabus
SBI Clerk 2018 syllabus is split into the following sections:
Quantitative aptitude : Maths of class X level
Logical reasoning :logical reasoning questions (verbal and non-verbal)
Marketing : marketing concepts and banking products
Computer Knowledge: general knowledge of hardware, software
Current affairs: general knowledge and current events
English language : questions from the language and skills of reading, writing
Final Selection
The marks obtained in the Preliminary Examination (Phase-I) will not be added for the selection and only the marks obtained in Main Examination (Phase-II) will be added to the marks obtained in Interview (Phase-III) (if interview is held) for preparation of the final merit list. Final selection will be made on the basis of candidate's performance in the test (main examination) and interview (if interview is held) taken together
Download Notification
Candidates interested to apply for this 2018 SBI Clerk/ Junior Associates Recruitment
must download the original notice from the bank website here (.pdf)
Best SBI Clerk Coaching Institute in Delhi and Mumbai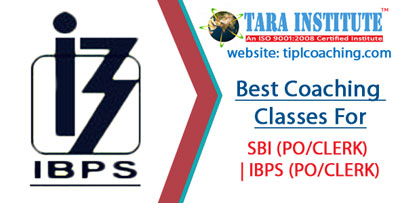 TIPL is one of the best institutes when it comes to SBI Bank Clerk coaching in Delhi. Not only do we provide a complete and comprehensive training package to our students, but we also help them in understanding the exam pattern better so that it can be easily cracked. Our teaching method is different from other coaching institutes. This is the reasons why most of the winners have recommended us for our out of the box strategic approach in cracking competitive exams as tough as SBI Bank clerk. TIPL has been and continues to be in the top 10 SBI Back Clerk Coaching institutes, with study centers in Delhi and Mumbai. You can use our unique teaching method as well as our study material designed to excel in SBI Bank clerk exams.
We offer complete regular course and crash course for getting the best possible assistance to the students. Our online and offline test series is aimed at maintaining a regular monitoring system. If you are not willing to take any risk for your future and would like to get an assured seat in the banking sector by clearing the prestigious SBI Bank Clerk exam, call us and join our fresh batch to begin your journey towards success.