Staff Selection Commission Multitasking (Non-Technical Staff) Examination, SSC MTS?Coaching in Delhi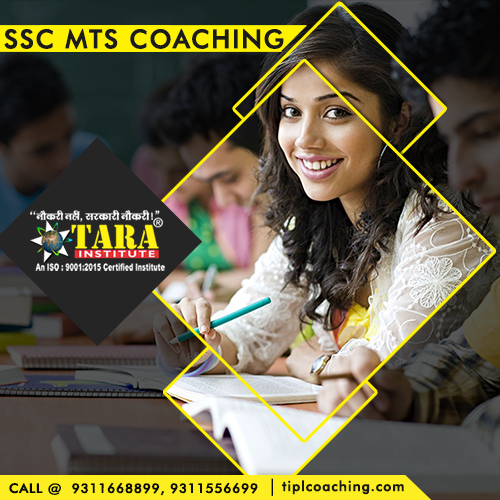 Rush to enroll with TIPL ? the one-stop destination for all the government exam preparation if you are in the hunt of the best classes for SSC DEO & MTS in Delhi. You are sure to fulfill your dream of a stable career in the government sector.
Based in Delhi, TIPL is the top SSC MTS Exam coaching provider. It has been delivering the outstanding results in SSC MTS Exam and SSC DEO along with the other competitive examination in India.
With the best SSC & DEO coaching in India at TIPL, students are sure to clear their SSC & DEO entrance exams with flying colours. Enroll today!
SSC MTS Selection Procedure Details:
Selection process details for staff selection (SSC) Multi tasking staff (MTS) are provided below:

Selection procedure: SSC is based on written examination. Candidates are shortlisted based on the performance exhibited by them. They are required to appear for descriptive type qualifying paper to test their command on basic language. Written Exam comprises of two papers: One will be Objective type paper (Paper 1) and other would be descriptive paper (paper 2). Paper 2 will be of qualifying nature. Top 5 SSC MTS coaching centers ensure to offer unique teaching method including online test series and offline test series.

TIPL's edge for SSC MTS

At TIPL, we understand that there are lakhs of students who appear for the SSC examination. And at least a third of them burn the midnight oil, working hard for the exam and a career ahead. TIPL, the best coaching institute for SSC MTS exam forges these students as well as some others, making them exam ready. Our curriculum and test series have been designed with experienced faculty members and rank holders who are well aware of the exam and its patterns, along with the importance of each section or subject. With the best provider of coaching classes for SSC MTS in Delhi- TIPL, you give your career the boom that it had been waiting for, surging ahead for success. Top 10 academy centers for SSC MTS have regular course as well as crash course. Get enrolled in our class and go through the reliable study material to score good marks in SSC MTS exams.

Paper 1: It will comprise questions related to "General Intelligence and Reasoning", Numerical Aptitude and English.
Paper 2: This paper is held for only those who get shortlisted in Paper 1. In this paper a candidate is supposed to write an essay or a letter in English and one language included in the 8th schedule of the Constitution.
Document verification is done for those students who qualify in paper 2. Upon successful document verification, a candidate is selected.

Note: The cut offs in Paper1 and qualifying marks in Paper 2 will differ for vacancies in each State/ Union Territory.

Note
1:
Ex-servicemen who have already got employment in civil side under Central Government in Group C and Group D posts on regular basis after obtaining the benefits of reservation given to them for their re-employment do not qualify for fee concession and claiming benefits for reservation under EXS category. They are only eligible for age relaxation.
Note 2:
"Call up Service" period of ex-servicemen in armed forces will be considered as services rendered in the Armed forces for purpose of SSC Multitasking staff 2014 Exam age relaxation.
Educational Qualification:
Must have a passed secondary examination with passing percentage and from recognized board


Note: Candidate who does not have the required educational qualification as on the closing date of the receipt of the application shall not apply.

Details of SSC MTS Syllabus
SCC Coaching helps a candidate to successfully qualify both the papers. Paper 1 comprises of following parts:


General Intelligence: It includes questions of non verbal type. Questions are asked on similarities and dissimilarities, problem solving, space visualization, decision making, analysis, judgement, relationship concepts, arithmetical number series, arithmetical computation, and non verbal series. SCC Coaching Mumbai pays equal attention to all students and increases their efficiency.
English language: It comprises of testing basis knowledge of English and grammar. It includes sentence formation, synonyms, antonyms and their correct use.
Numerical Aptitude: This paper will consists of questions on number systems, computation systems, decimals, Fractions, relationships between whole numbers, time and distance, Ratio and Time, Time and Work, Discounts, Simple Interest, Compound Interest, Profit and Loss, Graphs and Tables. SCC Coaching Delhi provides extensive coaching to students to perform well in this test.
General Awareness: These questions test the ability of the candidate's general awareness of the environment around him. Questions are designed to test their knowledge on current affairs, everyday events, current news etc. Questions related to India and neighbouring countries related to Sports, History, Culture, Geography, Science and Politics are asked. SCC CGL Coaching Delhi-Mumbai offers well trained staff who have years of experience in coaching. Their innovative methods helps a candidate pass with best marks.

Note: For VH candidates of 40 percent and above visual disability and opting for SCRIBE there will be no component of Maps / Graphs / General Awareness / Diagrams and Reasoning.

Paper 2: This paper will be made in English, Hindi and in other languages mentioned in 8th schedule of Constitution to test basic language skills of a candidate. They can write essay or letter in any language included in 8th schedule of Constitution. SCC CHSL Coaching Delhi-Mumbai has been showing best results in the past and continues the deliver the same in future.Our tuition center has qualified faculties to prepare students for SSC MTS examinations. Our study center in Delhi and Mumbai has all the modern facilities to prepare students for our SSC MTS tests as per their ease
So do not wait around and charge right ahead. Visit TIPL study center- the undisputed top coaching institute for SSC MTS exam and ensure your selection with our well designed study package.