Institute of AILET Centers, All India Law Entrance Test Examination Preparation in New Delhi, AILET Coaching Delhi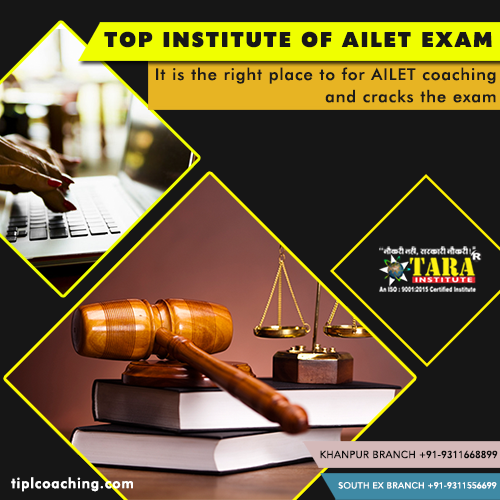 TIPL is one of the best institutes for the AILET Exam. Besides they evaluate performance of each student in details so that they know where more improvement is required. Accordingly they provide study material and the qualified faculty members to teach them to achieve success. AILET Coaching in Delhi is one of the best coaching classes and students need not have to look any more coaching centres.
Top Institute of AILET Exam in Delhi offers specialized coaching programs for maximum success rate of the students. They also ensure regular classes along with doubt clearance so students do not have to go with their doubts to exam.
Gaining entry into the Law education is a dream of many, but getting through it is not a cakewalk. One has to attend AILET entrance exam to make their way to one of the top law colleges in India. Top 5 AILET academy institutions can teach you the much needed education to crack the tough examination comfortably.
What is AILET Examination?
It's the All India Law entrance test that's works as the stepping stone to the 5 year B. A LLB program offered by the National Law University Delhi (NLU-Delhi) for those who clear it. At ITPL we offer well-rounded coaching sessions that are complete with detailed study materials and interactive sessions that drive the students to succeed in their degree course. With the help of top 10 AILET exam coaching centres, it is possible to go through crash course or regular course and prepare for the test. A number of online test series and offline test series are available with the comprehensive study material. Our class for AILET can train you properly for the competitive examination and score good marks.
Our Specialties
We evaluate the performance of each student in details.


We pay close attention to the weaker students.


We offer specialized coaching programs for maximum success rate.


We ensure regular classes along with doubt clearance.


We hire highly qualified expert faculty members who are dedicated to the students finding their way to success.


TIPL offers top AILET coaching classes that makes them the leader among similar institutions in Delhi. Our coaching programs are specially designed to help the students get admission in the 5-years Law program. We ensure personalized attention with constant interactions and without losing focus on their overall development. Selecting the best center for AILET is possible with our study centre in Delhi. We have a unique teaching method in our AILET tuition center that you can try out once. Get training from the professional faculties in our coaching institute and learn the in-depth details. Knowledgeable and experienced individuals are well-versed with all types of AILET exam patterns. We can offer you the best education so that you can perform well and build your career in law stream.