B.ed Coaching in Delhi, Bachelor of Education Entrance Examination (B.ed Exam 2020)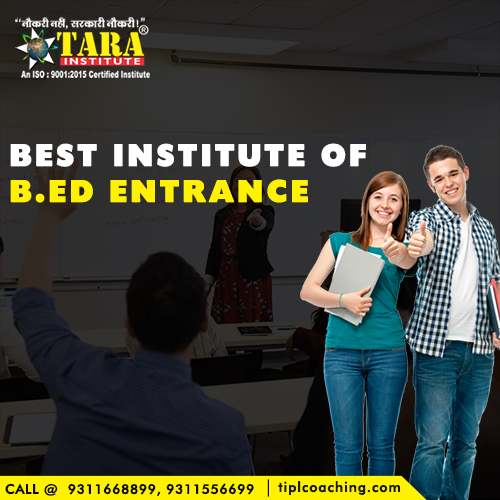 TIPL Coaching would be the Ideal Option for providing you the best preparation environment at a low fee for B. Ed entrance exams coaching in Delhi.
Students looking top institute for B. Ed entrance exams in India should not take decision in haste. It is better to enroll for classes of B. Ed Exam at TIPL Coaching in Delhi region.
Why waste your time visiting varied coaching centre for B. Ed exams when you have TIPL study centres at your next door.
TIPL Coaching the best Institute of B.Ed exam has the track of the consistent results and has become the highly sought B.Ed Coaching in Delhi.
Teachers play a very important role in a student's life. It is, to a great extent, the teachers who decide the shape a student's life will take.

So, it is very necessary to be adequately equipped with resources that will make the teacher a perfect role model to the students. To achieve this, Bachelor of Education or B. Ed was introduced, which teaches a person about the profession of teaching and the various aspects associated with it.
Once a person completes the B.Ed coaching or training, then he is awarded with a B. Ed degree. Teaching profession is perhaps one of the easy paying yet high paying jobs in India. In order to qualify as a teacher in India, B.Ed is very important. However, clearing the exam for the same is easier said than done. This is the reason why TIPL is the most preferred choice of all B. Ed aspirants and candidates. From our study centers in Delhi and Mumbai, we offer the aspirants some of the best guidance in the form of regular course and crash course.
If you think you have the qualities to be a teacher, then move forward and complete a year's course on Bachelor of Education (B. Ed). If you have the passion for teaching and want to take teaching as your profession, this B. Ed degree is considered compulsory. Whether you are an arts or a science graduate, you need to have the Bachelor's degree.
Why study Bachelor of Education?
There are some important reasons as to why one should opt for B. Ed course.
You become efficient in teaching subjects of your specialization on the basis of accepted principles of learning and teaching.
The course develops your skills and widens your understanding so that you can impart quality education to your students.
The course also teaches you about the attitude and makes you skilled in coming up with innovative teaching techniques.
You become more competent in understanding psychological principles of growth and development and individual differences of the students you teach.
There is a separate section in this course where you learn to guide the children and counsel them in solving their personal and academic problems.
The demand for qualified and trained teachers all over the country has made the students choose B. Ed to ensure a good teaching job.
We have been providing top notch coaching to all the students to help them cover the curriculum and crack the exam for getting a seat in the prestigious institutions. Our well designed and crafted study material has always been able to enhance the skills of the candidate for the better. Considered one of the top 10 institutes in the nation for best coaching, TIPL gives you the advantage over others with its experience and strategy.
If you have been struggling with the exam or are a first timer and want to crack the exam in the first attempt itself, join TIPL ? the best B.Ed tuition center and let our experienced teachers work on your preparation for a sure shot selection.
Top B.Ed colleges in India:
If you are willing to have a strong foundation of teaching, it is always prudent to seek admission in some of the reputed B. Ed colleges in India.
Jamia Millia Islamia, Maulana Mohammed Ali Jauhar Marg, New Delhi
A.G. Teachers College, Ahmedabad
Himachal Pradesh University, Department Of Education, Shimla
D.M.College of Teacher Education, Imphal
Andhra University, Visakhapatanam
University of Bombay
St. Xaviers College of Education, Patna
College Of Teacher Education, Kozhikode
NSS Training College, Pandalam
Indian Universities offering B.Ed course Correspondence courses:
Besides the above mentioned colleges, there are some universities which offer integrated course on Bachelor of Education.
Annamalai University
Bangalore University
Jamia Millia Islamia Institure of Post Graduate Studies and Research
University of Kerala, Institute of Distance Education
University of Madras
Maharishi Dayananad University
Mother Teresa Women's University
Patna University
SNDT Women's University
The demand for qualified and trained teachers all over the country has made the students choose B. Ed to ensure a good teaching job.