Delhi Police Examination (DP Exam 2019-2020) Preparation Institute, About Delhi Police Coaching in Delhi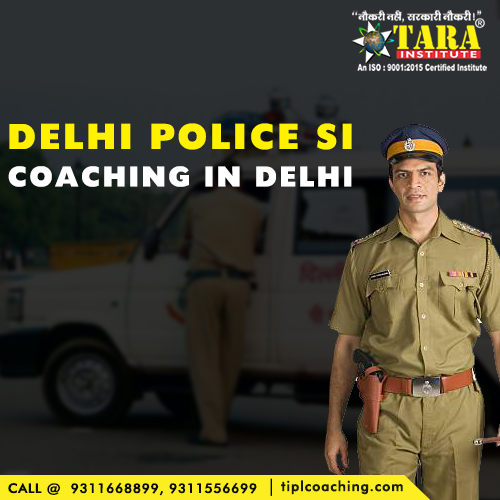 Are you in the search of the best institute of Delhi Police Exam! Leave your worries aside and get ready to enroll yourself for the regular classes of Delhi Police Exam run by the most preferred DP (Delhi Police) Coaching in Delhi rendered by TIPL Coaching.
With the unique teaching method and the high quality study material made available at TIPL Coaching Institute you are certain to clear your top Delhi Police (DP) entrance exam with the result-oriented coaching provided by the best institute of Delhi Police Exam.
Get ready to compete in the top Delhi Police (DP) exam with coaching classes of Delhi Police (DP) exam at TIPL Coaching!
TIPL is the leading institute offering high quality educational guidance to the aspirants looking forward to comply with the eligibility requirements posed by the post of SI (Sub Inspector) in Delhi Police. We offer Delhi Police SI coaching in Delhi and prepare the aspirants for the competitive exam designed to select the most appropriate candidate filled with dedication and courage to serve one Nation.
Our comprehensive teaching methodology entails into offering the candidates with the right mode of tips and tricks that guide them in a positive direction on to the way to grab the most respectful position in Delhi Police.
Delhi Police SI:
SI (Sub Inspector) is one of the robust and powerful position in Delhi Police that recalls for utmost dedication and courage in a candidate. Delhi Police conducts a competitive examination to pick the most appropriate candidate for the post of SI. The examination is conducted in the pattern with a premier written exam followed with physical endurance test, medical examination and interview/personality test.
Eligibility Criteria:
Application for the post of Sub Inspector in Delhi Police asks for the fulfillment of the below mentioned eligibility requirements: Nationality: A candidate applying for SI post can be either of these:
Indian Citizen, or
Nepal resident, or
Subject of Bhutan, or
Tibetan refugee settled in India on or before 1st January, 1962, or
Age:
Age limit prescribed for the applicants lies between 20-25 years of age.
Educational requirement:
Candidate must have acquired bachelor's degree from a recognized Indian university.
Best SI (Delhi Police) Coaching in Delhi
TIPL is indulged in offering highest success rate (99%) to the aspirants through exam oriented coaching mated with relevant short tricks and tips guided by the excellent faculty. we believe in departing quality educational incentive to the students, thereby follow a personalized attention program on every student and focus on clearing every doubt through our doubt clearing sessions.