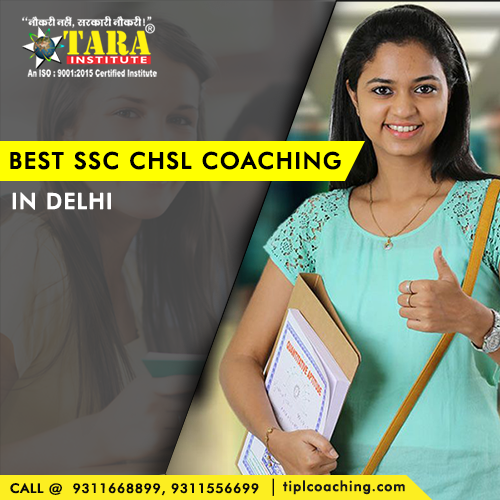 SSC CHSL Coaching in Delhi is the most renowned institute and has continuously produced excellent result over the years in Combined Higher Secondary Level exam. Best SSC CHSL exam provides high level coaching, imparted from the best and experienced faculty members in Delhi. They provide top notch guidance to the students.
Top Institute for SSC CHSL at TARA institute expertize is imparting quality coaching for all the level of the exams. The coaching emphasize more on quality learning rater repetition learning, thus making the weak students also improvise their learning ability by focusing on the wear areas. Register for top SSC CHSL Coaching in Delhi at TIPL Coaching.
Tara institute offers SSC Coaching for candidates preparing for Combined Higher Secondary Level or Data Entry Operator examination. It provides high level coaching, imparted from the best and experienced faculty members in Delhi and Mumbai. The examination is held to recruit staff for data entry and lower divisional clerks. We provide top notch guidance to students with minimum qualification of 12th pass. The main topics that the examination focuses on are quantitative aptitude, general knowledge, reasoning ability and English language. The candidates must be a minimum of 18 years and maximum of 27 years while appearing for the exam.
We are one of the most renowned institutes in SSC CHSL Coaching Delhi-Mumbai and have continuously produced excellent results over the years in Combined Higher Secondary Level or Data Entry Operator exams. We follow a unique methodology of teaching wherein we emphasize more on quality learning rather than rote learning, add value to the students classroom experience from entry to exit and focus on weak areas of the candidates thus helping them drive away their lacunas.
We provide up-to date knowledge and information about the examination on our website. The examination is generally conducted for selection of lower divisional clerks and stenographers. Anyone with a typing speed of 80 Words Per Minute can apply for the post of stenographer. We at Tara Institute expertize in imparting quality coaching for both the levels of the examination. The staff selection commission usually conducts two tier exams with the 1st being a preliminary screening exam. Candidates selected in this then appear either for a skill test (for data entry operator) or a typewriting test (for lower divisional clerk).
Scheme of Examination
The examination will consist of a Computer based Written Examination (Tier-I), Descriptive Paper (Tier-II) and Typing Test/Skill Test (Tier-III) Examination for the post of Data Entry Operator, Postal Assistant & Sorting Assistant (PA/SA), Lower Division Clerk and Court Clerk.

Computer Based Written Exam (Tier-I (Objective type):
Part
Subject
Maximum Marks
Total Duration/Timing
I
General Intelligence (25 questions)
50
60 Minutes (Total)
For for VH/OH (afflicted by Cerebral Palsy and OH with deformity in writing hand
(Pl. see Para 7 of notice).-100 Minutes
II
English Language (Basic Knowledge) ( 25 questions)
50
III
Quantitative Aptitude (Basic Arithmetic Skill) (25 questions)
50
IV
General Awareness (25 questions)
50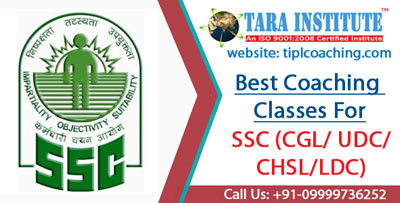 Written examination consists of Objective Type- Multiple choice questions only. The questions will be set both in English & Hindi for Part-I, III & IV.
There will be negative marking of 0.50 marks for each wrong answer.
Answer Keys will be placed on Commission's website after written examination. Any representation regarding answer key received within the time limit fixed by the Commission at the time of uploading of the answer key will be scrutinized and the decision of the Commission in this regard will be final.
The Commission reserves the right to introduce additional stage of examination which would be notified at suitable time, if considered necessary.
Tier-II (Descriptive Paper)Tier-II Paper of CHSL 2016 will be a descriptive Paper of 100 Marks in 'Pen and Paper Mode The duration of the paper would be for one hour (20 minutes compensatory time will also be provided to the candidates mentioned in Para 7 above). This paper has been introduced to assess the writing skills of the candidates which is necessary in Government jobs. The Paper would comprise writing of an Essay of 200-250 words and Letter / Application writing of approximately 150-200 words. The minimum qualifying marks in Tier-II would be 33 per cent. The performance in Tier II would be included for preparing merit. The paper will have to be written either in Hindi or in English. Part paper written in Hindi and Part in English will not be evaluated.
Tier-III ExaminationTier-III of the Examination would continue to be the Skill Test / Typing Test which would be of a qualifying nature. Skill Test / Typing Test would be in consonance with the provisions contained in para 12.2 and 12.3 given below. The final merit of the successful candidates would be determined on the basis of total score obtained by them in Tier-I and Tier-II.
Test for Data Entry operator
Candidates qualifying in the stage 1 examination or the written test would be required to appear for the skill test irrespective of their caste category or physical condition(PH or not). The time period of evaluation is 15 minutes where one has to perform data entry at a minimum acceptable speed of 35 words per minute. A printed material containing 2000-2200 key depressions handed out to the candidate which they have to correctly enter into the computer. This round generally focuses on speed of the candidate and after qualifying this stage they are eligible for appointment in various government departments depending on their position in the merit list.
Test for Lower Divisional Clerk
Candidates who qualify in the preliminary examination have to take up the typing test in Hindi or English according to the candidate's choice. For the ones appearing the test in English have to maintain a speed of 35 words per minute and the ones appearing in Hindi will have to maintain 30 words per minute speed. The speed will be determined depending on the accuracy of typing into the computer in 10 minutes. Visually handicapped with more than 40% disability candidates are provided with passage dictators and given 30 minutes time to complete the task.
The general marking scheme for the written objective type test is as follows:
Our institute provides high quality SSC CHSL Coaching Delhi-Mumbai with comprehensive coaching and tutoring for the written test. The study materials provided and regular class room evaluations help the students strengthen their basics and perform exceptionally well in the exam. The detailed syllabus for the objective type written test is as follows:
General Knowledge
This section basically tests the candidate's knowledge of his/her surrounding environment. There can be questions from current affairs, questions related to India and its neighbors, culture, history, general science etc. Candidate is expected to have a sharp observation skill scientific temperament and educated in an all-round sense.
Tara institute will provide you all possible support to roll through both the stages of the Combined Higher Secondary Level examination and be ready to be appointed as a Lower division clerk or Data entry operator. Numerous government departments like
Central Secretariat Clerical Service
Armed forces headquarters clerical service
Central bureau of investigation
Comptroller and auditor general of India
and many more employ these qualified and successful candidates under government payroll. So come to us to get the best SCC Coaching and succeed in Combined Higher Secondary Level examination with flying colors.