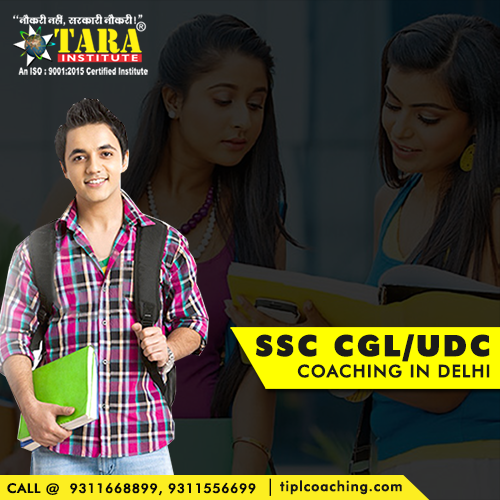 Stop your search at the SSC CGL Coaching Centres for power and recognized position in the central government sector without any failure. At TIPL Coaching the coaching guidance will be provided to the aspiring students to broaden their scope while attaining training. Top Institute for SSC CGL is in Delhi have the recommendable faculty who provides best study material and necessary resources to crack the exam in very first go.
The TIPL Coaching Institute offers unmatched coaching and practice session to make the student learn from every possible prospect. SSC CGL Exam can be cracked at the very first go by the TIPL students. Enroll today.
SSC is something that brings in authority, power and a recognized position in the central government. With SSC CGL institutes in Delhi, you can be a part of this most sought-after job profile. The correct career guidance from the experienced faculties will let you grab the important tips and tricks that will help you attain the best rank in the most lucrative career stream. At TIPL Coaching, the coaching guidance will be provided to the aspiring students to broaden their scope, while attaining best support and training. We provide all such assistance to the students, along with the best technologies, study material and other necessary resources.
SSC Coaching from TIPL Coaching Delhi
We offer top coaching classes for SSC CGL that directs the individual in attaining a secured and respected position among the posts offered by the Government of India.
TIPL Coaching edge for its students:
Best-in-class faculty who excel in handling the complete syllabus within defined time.
Outstanding performance chart to display our working scenario.
Lasting student support system to guide the students through frequent analysis of their performance and weak areas.
Those who want to pursue crash course or regular course for SSC CGL exam preparation, may find our institute to be the best platform to satisfy their quest of learning the best and effective tricks to score well in the exam. Our coaching classes will define the assured way of success that goes through the highs and lows of the preparation module. In this, our experienced faculty plays the major role of improving a student's performance through continuous motivation.
Understanding more about SSC CGL Examination
Aspirants who have applied for SSC exam need proper guidance and support to improve their ability to clear the exams. Aspirants must have good knowledge of English, Mathematics, Reasoning, basic comprehension and writing ability, to be able to crack the exam with flying colours.
While they have a huge and high level of competition, CGL exams make a separate and unique stand among others. Every year, a large number of students tried their best by burning the midnight oil for an esteemed position in the Central government through this platform. For students appearing for SSC exam, it becomes imperative to narrow down to some reliable and experienced mentor who offers them quality guidance along with the best CGL coaching in Delhi.
How Joining TIPL Coaching Institute?
Joining TIPL Coaching will give the aspirant a quality oriented education platform that allows the candidate to perform exceptionally well and prove his/her caliber by showing an unparalleled selection record. We have the best experienced and proficient faculty members who applied out-of-the-box ideas to make the student learn facts and figures for the final show down in exam. Our SSC CGL coaching institute offers a sure shot platform to the students that can help in boosting their caliber through continual motivation and guidance at every step.
Why choose TIPL Coaching Institute?
We offer unmatched coaching and practice sessions to make the students learn from every possible prospect.


We focus on quality education preferring a small batch formation that impart spotlight on individual attention.


We offer affordable SSC CGL coaching classes Mumbai and prefer to put our centre of attention on the bright students.


We adopt new ways of learning to make the students understand everything with a deep analysis. Our online test series and offline test series make the students learn faster.


We understand that it is not easy to clear Government exams that have hundreds of thousands of students trying for several years to score above the cut off. With a huge experience, TIPL Coaching and its faculty have also known for a fact that just hard work is not enough. This is the reason why we provide the much needed edge to some students, boosting their problem solving skills and knowledge to a level that they can easily crack the exam and get the prestigious jobs in the central government as intended. We aren't regarded one of the top 10 tuition centres for just like that.
If you too have a dream in life and would like to see it fulfilled while being a high ranking officer in the Indian Government, you can give yourself the advantage by choosing our coaching classes. With a compiled experience of a century and a forte in competitive exam training, we can train you well and help you crack one of the toughest exams in the country with ease. We have our tuition centres in Delhi. You can begin at our academy at the earliest and achieve the desired results.
SSC is a reputed group under the Government of India that recruits eligible applicants to various Government departments/ ministries through SSC CGL, SSC JE, SSC CHSL, SSC MTS and SSC CPO exams. Seeing the significance of these exams, TIPL Coaching offer candidates with the best course content, dedicated faculty and effective study guide through SSC Coaching.
TIPL Coaching provides coaching classes for exams like SSC CGL, SSC JE, SSC MTS, SSC CPO etc. We have SSC Coaching in New Delhi to help candidates staying in New Delhi with their preparation for upcoming SSC Exams. TIPL Coaching has SSC Coaching in New Delhi at various locations namely Uttam Naga,r Mukherjee Nagar, Munirka GTB Nagar etc. With batch timings that suits every aspirant's need and a quality course content to scale various SSC Exams, TIPL Coaching is a leading brand name for SSC Coaching in New Delhi.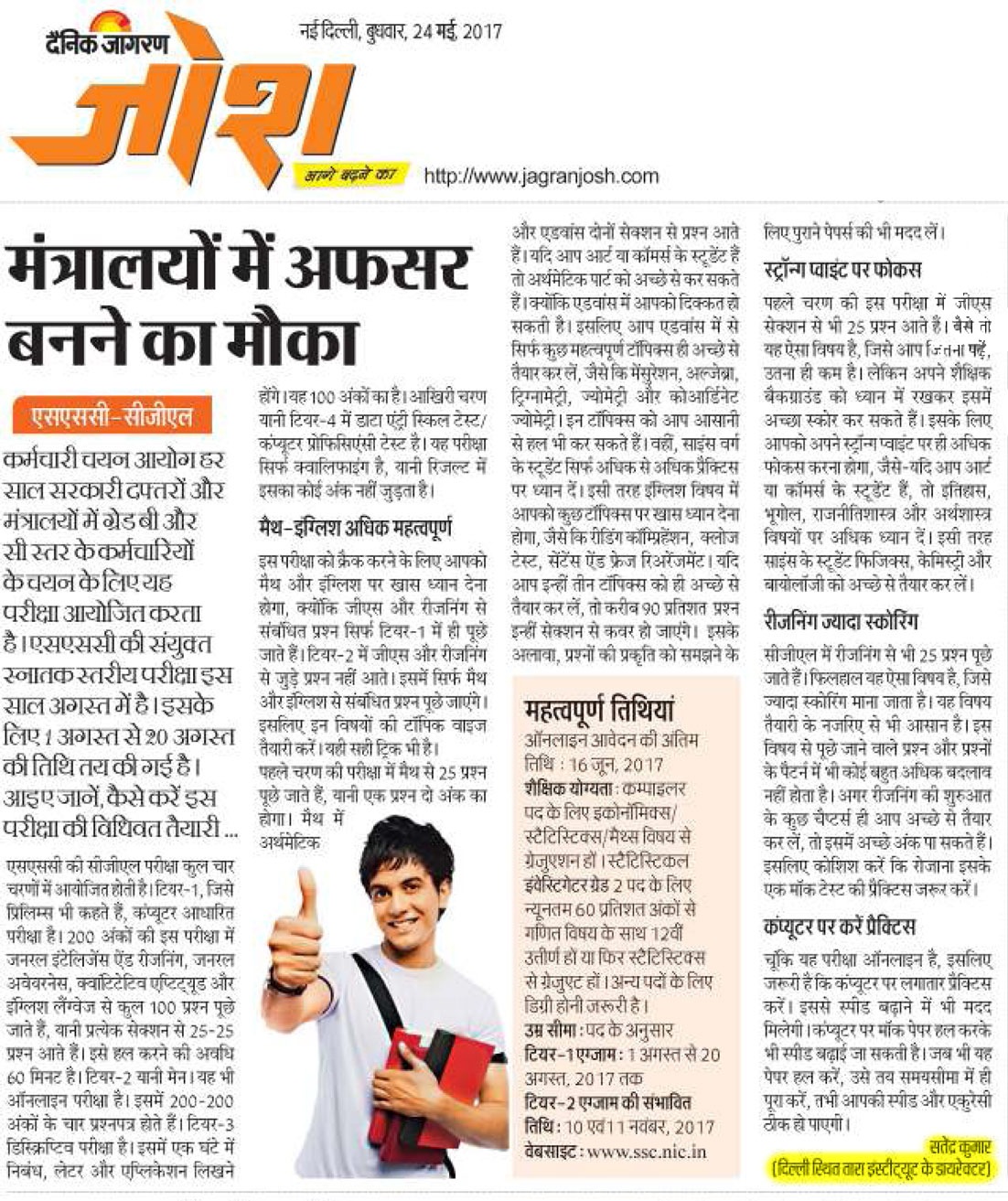 Eligibility Criteria for SSC CGL Exams
Compiler: A bachelor?s degree with Mathematics or Statistics or Economics as main or elective subject is required to meet the eligibility criteria for the post of compiler.
Statistical Investigator Grade
: For the post of Statistical Investigator Grade II a bachelor?s degree with economics or mathematics or commerce as the main subject with statistics is necessary.
All other Posts
: For all other posts bachelor's degree is required affiliated by a recognized university or equivalent.
| | |
| --- | --- |
| Age | |
| Category of posts | Age limit |
| Inspector of Income Tax/Inspector(Central Excise)/ | |
| Inspector(Preventive Officer)/Inspector(Examiner)/ | |
| Inspector of Posts/Assistant Enforcement Officer/ | |
| Compiler/Divisional Accountant/Auditors/UDCs/Tax | |
| Assistants/Junior Accountant & Accountant | 18-27 years |
| Statistical Investigator Gr II | Not exceeding 26 years |
| Assistant/Sub Inspector in CBI | 20-27 years |
| | |
| --- | --- |
| Age Relaxation | |
| Category | Age Relaxation Permissible beyond the Upper age limit |
| SC/ST | 5 Years |
| OBC | 3 Years |
| PH | 10 Years |
| PH+OBC | 13 Years |
| PH+SC/ST | 15 Years |
| EX-Servicemen(OBC) | 8 Years |
| Ex-Servicemen(SC & ST) | 10 Years |