TIPL Coaching - The Best IBPS PO Coaching in Mumbai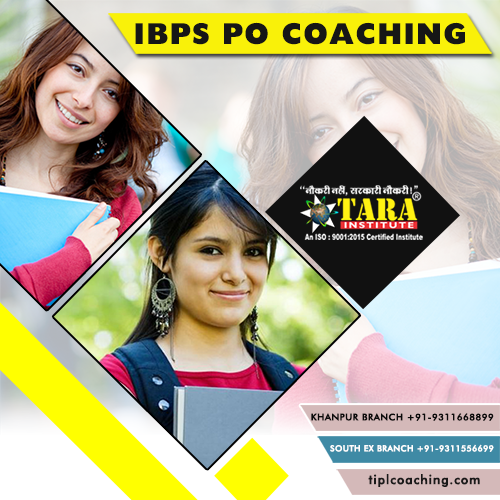 TIPL Coaching has always been considered as the leading center for IBPS PO coaching in Mumbai. Every year our academy ranks between top 5 and top 10 in the country which is main reason of preference by maximum aspirants.
For almost two decades, we have been providing the best coaching for various competitive exams. We have several branches where students can enroll including our IBPS PO exam coaching in Nashik. If you?re unable to give full time for the IBPS PO exam preparation, then you can always avail the crash course at our institute.
The preparation of IBPS PO exam has always been a tough one for the students, but at TIPL Coaching the coaching for IBPS PO has become smooth and easier for students. There are a number of centers run by our institute namely IBPS PO coaching classes in Nagpur and others which makes it even more convenient for students from remote areas.
Some of the popular ones are our Institute for IBPS PO exam in Nashik and the classes of IBPS PO in Pune. So, if you?re looking forward to take up coaching classes for IBPS PO, TIPL Coaching should certainly be your prime choice without the second thought.
However, if students can spare a little more time for the study, we recommend the regular course for them. So, if you are looking for the top classes of IBPS PO exam in Pune, TIPL Coaching should be your first coaching centre in India because of our unique teaching method that we offer promising you the assured positive result in IBPS PO exam.
We run a number of branches to ensure our students face no problem finding a nearby tuition centre. For the utter convenience of our students we provide the most effective teaching methods. Students who are unable to visit our regular IBPS PO coaching classes in Nagpur or coaching classes of IBPS PO in Aurangabad can avail the benefit of crash courses for support in preparation. Other than that, we also let our students have the option of offline test series to develop confidence.
Why IBPS PO Preparation from our Institute TIPL Coaching?
We at our every TIPL Coaching centre including coaching classes of IBPS PO in Aurangabad and IBPS PO coaching classes in Nagpur aim at imparting unmatched quality coaching of IBPS PO to every student. With years of good results, we take pride in being one of the best coaching institutes of IBPS PO in the country.
The highly qualified faculty and our unparalleled teaching method make us lie among the top of the preference list of the students. We have a dedicated team for designing the study material for our students which are designed in such a way that learning becomes easier for them.
We offer proper and thorough guidance so that our students do not miss out on anything. With all of these we also offer special classes for doubt clearing, so the students can prepare themselves for their IBPS PO exam and come out with flying colours.
Register today for the IBPS PO coaching in Mumbai at TIPL Coaching (TIPL).