If You Wish to Crack IBPS Clerk Exam, Join TIPL Coaching Today!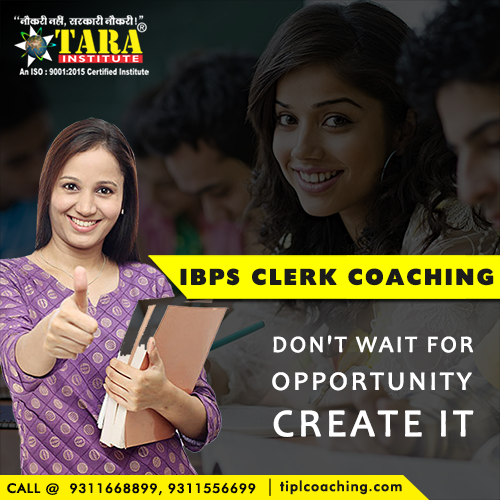 The IBPS clerk coaching in Kolkata has proven to be boon for many aspiring students who are looking forward for the best coaching center. Our coaching centers for IBPS exam help the students in all possible way and also provide motivation and proper guidance.
You can find many coaching centers of IBPS clerk exam at many places across the country but there is no comparison to IBPS clerk coaching in Kolkata provided by our TIPL Coaching centres. Banking sector is one of the finest career options as the jobs are good paid and the society duly respects the job in banking sector. Institute of Banking Personnel Selection was established in the year 1975 with an objective of selecting finest of the candidates for the upcoming bank jobs in Banking sector in India.
As the matter of fact, banking is one of the most flourishing sectors seeking high number of professionals for different profiles and positions so coaching from our institute for IBPS clerk coaching exam in Asansol has played great role in coaching hopeful students. Our institute for IBPS clerk coaching exam in Asansol has also been ranked in the top 10 centers for banking coaching.
We at TIPL Coaching polish students as we believe that those candidates who are armed with right skills and knowledge are required in the different roles in the developing banking sector in the country. Coaching centers for the IBPS aims at choosing the candidates who understand the concept of banking and thus can contribute in its growth. Our day and night classes of IBPS clerk coaching in Bardhaman, which is very famous is one of the top 5 institutes for imparting knowledge through the right means and ways.
The regular and crash course classes for the IBPS clerk exam in Durgapur are very important for the students as it allows students who have potential to develop learning of the concepts more clearly from the faculty delivering lectures over there.
Why not enroll for the classes of clerk coaching in Bardhaman that organizes coaching for different banking positions across the country and provide equal opportunity to aspiring candidates to pass the IBPS clerk exam easily.
The thousands of the aspirants have been enrolling for the coaching for IBPS clerk exam in Salt Lake area with us to learn from the industry expert faculties who pay undivided attention to the students and make them practice the mock tests regularly. Also our offline test series and online test series play a remarkable role in building the strong confidence in candidates preparing at TIPL Coaching. Candidates willing to grab job in banks join our institute of IBPS clerk coaching in Durgapur TIPL Coaching well in advance.
At our coaching for IBPS clerk exam in Salt Lake, students are imparted the regular course on the daily basis if the students for some reason are unable to attend classes on regular basis, they can join our crash course and make the necessary preparations. Students also find it very helpful to attend IBPS clerk coaching classes in Kolkata, the capital city. Visit us today!
Join TIPL for result in IBPS Clerk Exam, Online Coaching for IBPS Clerk Exam, Best Video Lecturers for IBPS Clerk Exams, Leading and Best IBPS Clerk Online Coaching Classes in India, Free Video Recorded Classes for IBPS Clerk Exam Preparation.