(a) For admission to Indian Military Academy, Naval Academy and Air Force Academy:
English - This paper tests the understanding of the English language.
General Knowledge - This tests the general knowledge, current events, history of India, geography of nature and other matters of everyday observation.
Elementary Mathematics - This paper covers arithmetic, algebra, geometry, trigonometry, and statistics.
(b) For Admission to Officers Training Academy (OTA):
English - This paper tests the understanding of the English language.
General Knowledge - This tests the general knowledge, current events, history of India, geography of nature and other matters of everyday observation.
Note:
(i) The papers in all subjects will consist of OBJECTIVE-TYPE (Multiple-Choice questions only). The question papers will be set in English only.
(ii) Each paper will be of 2 hours duration and will carry 100 marks.
Standard of Examination:
The standard of the paper in Elementary Mathematics will be of the Matriculation Examination. The standard of papers in other subjects will approximately be such as may be expected of a graduate of an Indian University.
Centres of examination:
Agartala, Ahmedabad, Aizawl, Allahabad, Bangalore, Bareilly, Bhopal, Calcutta, Chandigarh, Chennai, Cochin, Cuttack, Delhi, Dharwar, Dispur (Guwahati), Gangtok, Hyderabad, Imphal, Itanagar, Jaipur, Jammu, Jorhat, Kohima, Lucknow, Madurai, Mumbai, Nagpur, Panaji (Goa), Patna, Port Blair, Raipur, Sambalpur, Shillong, Shimla, Srinagar, Tirupati, Trivandrum, Udaipur and Vishakhapatnam. The centres and the date of holding the examination are liable to be changed at the discretion of the Commission.
Various concessions, like reservation in posts, are available for NCC cadets appearing in the exam.
Interview and Special Tests
Those who qualify the written test, undergo interview and a series of intelligence and personality tests. The tests, both verbal and non-verbal, are designed not only to judge the mental caliber of the candidate but also to assess his social traits and interest in current affairs.
Personality tests - These tests are as follows
Situation Reaction Test (SRT) - Sixty situations are given and the candidate is required to answer the reactions within 30 minutes.
Thematic Apperception Test (TAT) - A set of 12 pictures are shown and the candidate is required to write a story in 3 minute for each picture.
Word Association Test (WAT) - Sixty words are projected and the candidate is required to make a sentence, in 15 seconds for each word.
Group test - Group Test is conducted in batches of 8-10 candidates. The test consists of group planning, group discussion, outdoor group tasks. The candidates are asked to take lectures on certain topics.
Physical Standards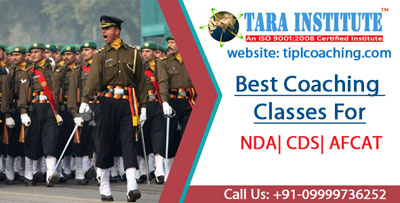 Candidates recommended by the Services Selection Board must undergo a medical examination by the Board of Service Medical Officers, and are allowed to go for the training programs only after being declared fit by the medical board.
To serve as an officer of the Defence forces is truly a prestigious job. You can join the Indian Army, Navy or the Air force by giving the CDS exam. However, as easy as it sounds, the competition is even tougher and the condition even worse. If you want to make sure that your efforts pay off, join TIPL- the best CDS coaching institute. With our study centres in Delhi, we offer full time regular course and the speeding crash course to candidates for brushing up the concepts. Not only do our faculty members train you in the subjective or objective tests, but we also provide you with specialized training from ex military officers and high ranking officials for an overall personality development.
With our targeted approach to clear the exam and the insight that we provide, you can feel the difference of studying at one of the top 10 CDS coaching institutes in India. Join our classes now and get the esteemed opportunity to serve the nation as an officer of the forces. Being one of the top tuition centres for CDS exam, TIPL offers you excellent guidance and well-crafted study material for assured success in CDS Examination.
The Combined Defence Services exam is held twice in a year in the months of February and November. It is conducted by the Union Public Services Commissions (UPSC) and enables the aspirants to apply for Indian Army, Indian Air Force, and Naval Academy. The age boundary to apply for this exam is 19-25 years. If you are observing for a trustworthy coaching institute in Delhi, then you have come to the right place. The TIPL coaching is counted amongst the top 10 CDS coaching institutes in New Delhi (India). The TIPL coaching provides a comprehensive written coaching and has achieved the best success rate.
A candidate can perform for CDS Exam, while he/she is appearing for 3rd year of Graduation. Together Male and Female candidates can apply for CDS Exam. Female candidates can only relate for Short Service Commission i.e. OTA. CDS Exam has three papers i.e. GK, Math and English for Permanent Commission i.e. IMA, AF & NA and two i.e. English & GK for applicants applying for Short Service Commission i.e. OTA. Candidates with Arts/Commerce related are eligible for ARMY only.