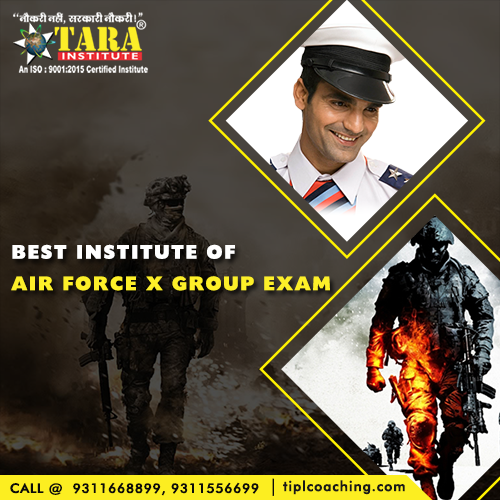 TIPL Coaching has been the benchmark of excellence over the years producing Air Force X Group rank holders every single year.
TIPL has been a trusted institute of air force X group Exam in India for students who wish to pursue a career with in Indian Air Force.
TIPL is one of the top Air Force X Group Coaching in Delhi that deals with the daily queries of the aspirants with the help of their experienced faculty.
So, if you are searching for the classes of Air Force X Group entrance exam coaching in Delhi, contact TIPL coaching right away!
Did you always yearn for a job where you could earn both respect and prestige? Does your heart always beat to serve Bharat Mata? If yes, then you are a right fit for Indian Air Force. You can also become a part of this proud profession by clearing one of the exams organized by the air force. One of these is Air Force X Group coaching exam.
Looking for the method of application, syllabus, qualification, date and other data related to the exam? Don?t worry! We have compiled the entire information related to the exam for your convenience.
TIPL Coaching has a reputation of ranking among the top 5 coaching institute for Indian Air Force Group X exam. TIPL Coaching unique exam preparation techniques make it the best institute for Indian Air Force Group X examination. TIPL Coaching is an Indian Air Force Group X coaching institute focusing on competitive study patterns and confident attitude building classes.
Air Force X Group Exam
The Indian Air Force organizes Group X exam for the interested candidates to join as Airman in various technical and non-technical trades. The exam is conducted to fill technical posts such as Mechanical Fitter, Electric Fitter, Automobile Fitter, Propulsion Fitter, Structure Fitter, Workshop Smith and Weapon Fitter, and non-technical post such as Education Instructor.
Qualification
The candidate must have passed 10+2 or any equivalent examination with Mathematics, English, and Physics with 50% marks
or
The candidate must have passed three years Diploma in Engineering in any of the stream mentioned in CASB web portal with minimum 50% marks in aggregate and 50% in English
How many times is the exam conducted?
This exam is conducted once in every year and the notification is released on the official website as well as in the newspapers.
Selection Criteria
The selection will be made on the basis of online exam, Physical Fitness Test (PFT) and Medical Examination. The online exam is conducted in Phase-I and Phase-II. Those candidates who pass the first exam will be eligible for the second exam.
Exam pattern
1. The question paper will be objective type and will be set in both English and Hindi.
2. The question paper will comprise of three sections i.e. English, Physics, and Mathematics, and the candidates will have to clear each section separately
3. The standard of the question paper will be that of 10+2
4. The duration of the examination will be 60 minutes

Exam pattern

1. The question paper will be objective type and will be set in both English and Hindi.
2. The question paper will comprise of three sections i.e. English, Physics, and Mathematics, and the candidates will have to clear each section separately
3. The standard of the question paper will be that of 10+2
4. The duration of the examination will be 60 minutes

Best coaching for Air Force Group X exam

It isn?t a piece of cake to clear this exam. Thorough preparation and in-depth studies are required to clear the exam. Along with this, working knowledge is equally important to increase your chances of clearing the Air Force Group X exam. Here at TIPL Coaching each class is focused on all-round training. So, our unique teaching method not just provides subjective preparation but we also focus on imparting technical or field-specific knowledge. We are one of the Top 5 Air Force X Group Coaching in Delhi, India which is quite evident from our track record. Our study centers have an environment of competitive preparation to provide top coaching for Air Force Group X exams. You may choose to study either via our well-curated online test series or offline test series. The test materials are prepared by our team of experts who have been teaching for decades. Some of our offerings that rank us among the top 10 coaching institute for Air Force Group X exam are:

Some of our offerings that make us the top coaching institute for the Air Force Group X exam are:

The study material is bilingual - available both in Hindi as well as English for best coaching
100% free coaching facility for fatherless and handicap students
The candidates can opt either for a crash course or a regular course
Interview tips and Group Discussion material prepared by experts
Dedicated app to help the students prepare on the go
You can also check exam notifications and other updates from our app
Check your level of preparation with free online test series and offline test series
Personalized and specialized tips for Air Force Group X exam
e-learning facility

What are you waiting for?

What are you waiting for? Join our high-achieving academy to boost your career and get the best Indian Air Force X Group coaching in Delhi. Each of our tuition centre fully equipped with leading educational facilities to fully prepare in every aspect of the Indian Air Force Group X exam preparation.

Our study center in Delhi and Mumbai are among the top 10 coaching of Air Force Group X exam. Become a part of the best coaching for Air Force X Group by joining TIPL, the leading Air Force Group X coaching institute.

Contact your nearest TIPL Coaching tuition center and get enrolled today. Hurry, limited seats available!

Age

The eligible candidate should is aged between 17-21 years on the date of enrollment.

Due to the Impact of COVID - 19, our institute has decided to proceed with online coaching classes and not any offline classes until further notice received from government for educational institutes. As per our Prime Minister Shri Narendra Modi said "JAAN BHI OR JAHAN BHI", we understand the value of education and agreed to join hand together for LIVE Classes for AIRFORCE X GROUP Exams Preparation. Interested candidates may join our Online Video Lectures for AIRFORCE X GROUP Exams 2020 or can also buy our Recorded Video Lectures for AIRFORCE X GROUP Exam.

Crash Course For AIRFORCE X GROUP going to start Online Video Lectures from:-

1st June 2020
15th June 2020
1st July 2020

Regular Course For AIRFORCE X GROUP-2/2020 going to start Online Video Lectures from:-

15th July 2020
1st August 2020
19th August 2020
1st September 2020
For Details Call Us
Khanpur +91-9311556699
South Ex +91-9311668899
Munirka +91-9999169080
Vikaspuri +91-9999083824

---

GET IN TOUCH

Copyright © 2020 tiplcoaching.com - All Rights Reserved